L' Atelier
"An intimate hideaway in historic Antibes."
All the charm of a French artisanal workshop—without all the work! Live life artfully in this perfectly situated apartment at the historic core of old Antibes.
Ideal for couples on a romantic getaway or friends on a European adventure, L'Atelier pairs inimitable Côte d'Azur style with modern conveniences and comfort.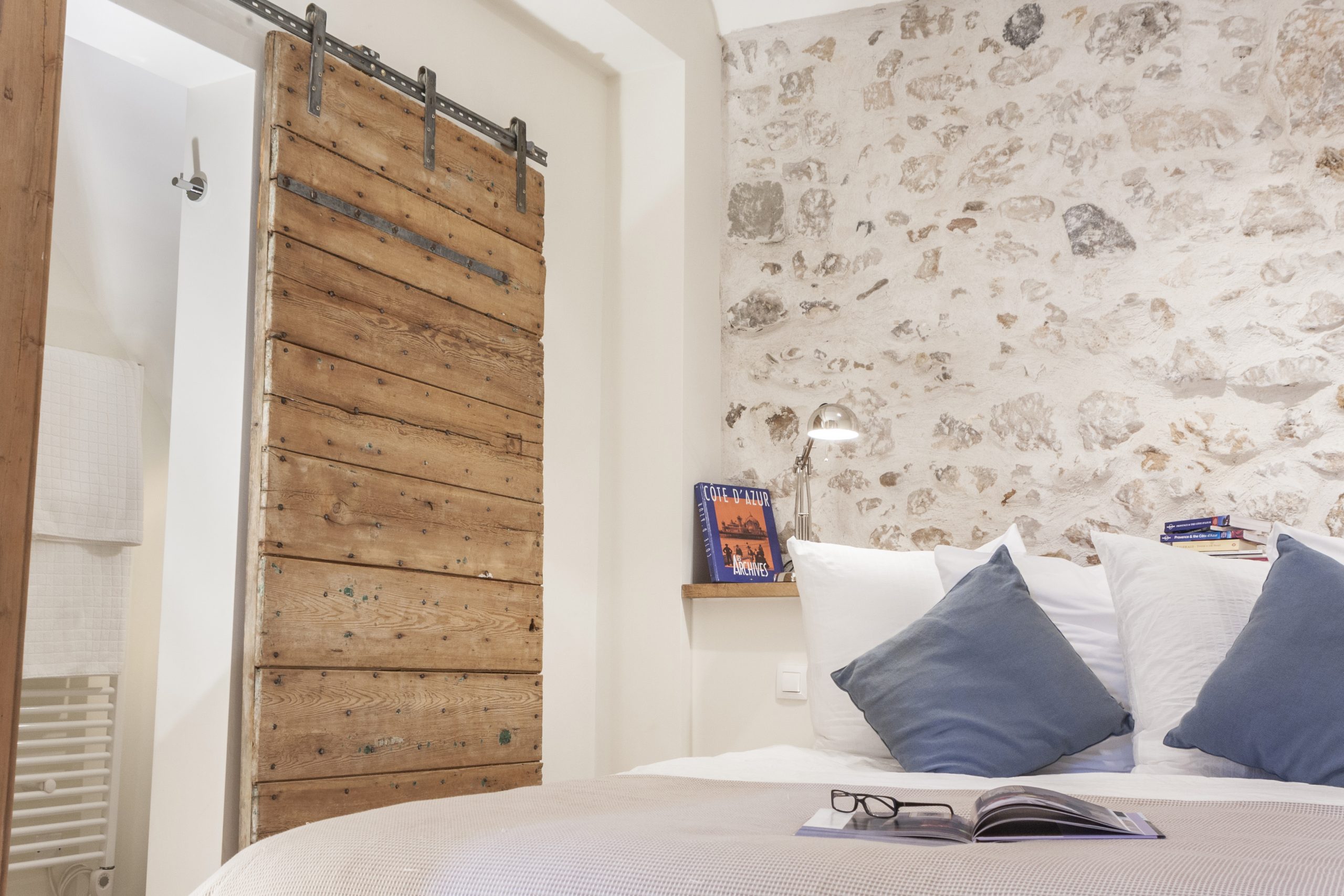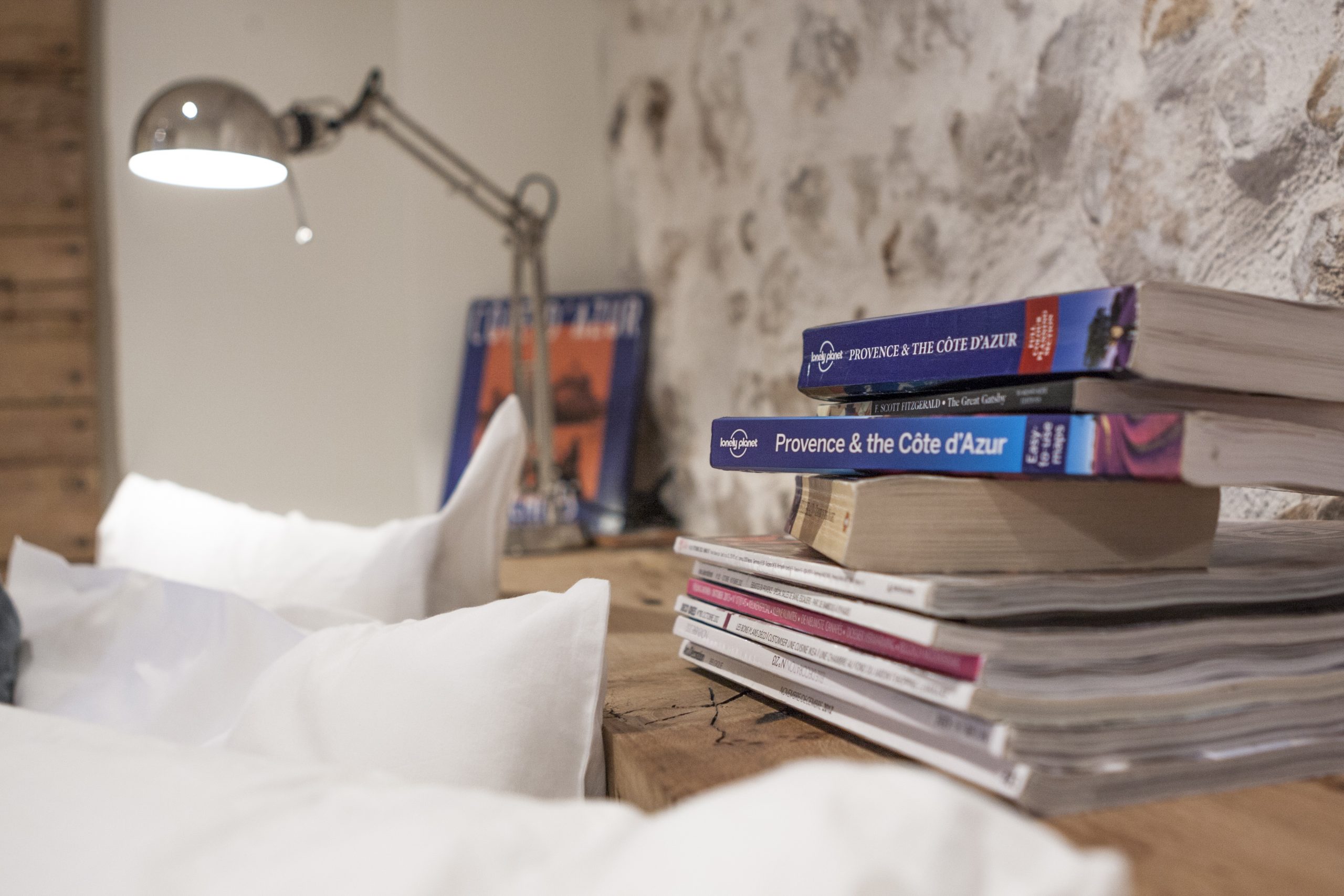 Make your holiday a masterpiece in this beautiful apartment built for two, carefully renovated to evoke the warm hospitality and charm of a French artist's workshop.
From this centrally located apartment in the Old Town, guests can immerse themselves in the authentic Provençal life: sipping coffee at quaint cafes, greeting friendly shopkeepers at bakeries and boutiques, sampling the fine provisions at the farmer's market, and partaking in delicacies from land and sea at excellent restaurants…all within easy promenading distance.
And then, at the end of the day, kick back and make yourself at home in the cozy elegance of L'Atelier!
L'Atelier was designed to provide all the modern amenities a discriminating traveler would require—while preserving the rustic essence of a traditional workshop, with its vaulted ceiling, gorgeous tilework, and wide-planked oak floors.
Although the apartment is just steps away from shops and cafes, the location along a quiet pedestrian street makes L'Atelier a peaceful and restful hideaway. Every possible detail has been thoughtfully considered from the luxury bath products to the beach-ready towel bags ensuring your stay is completely stress-free and totally relaxing.
L'Atelier
property details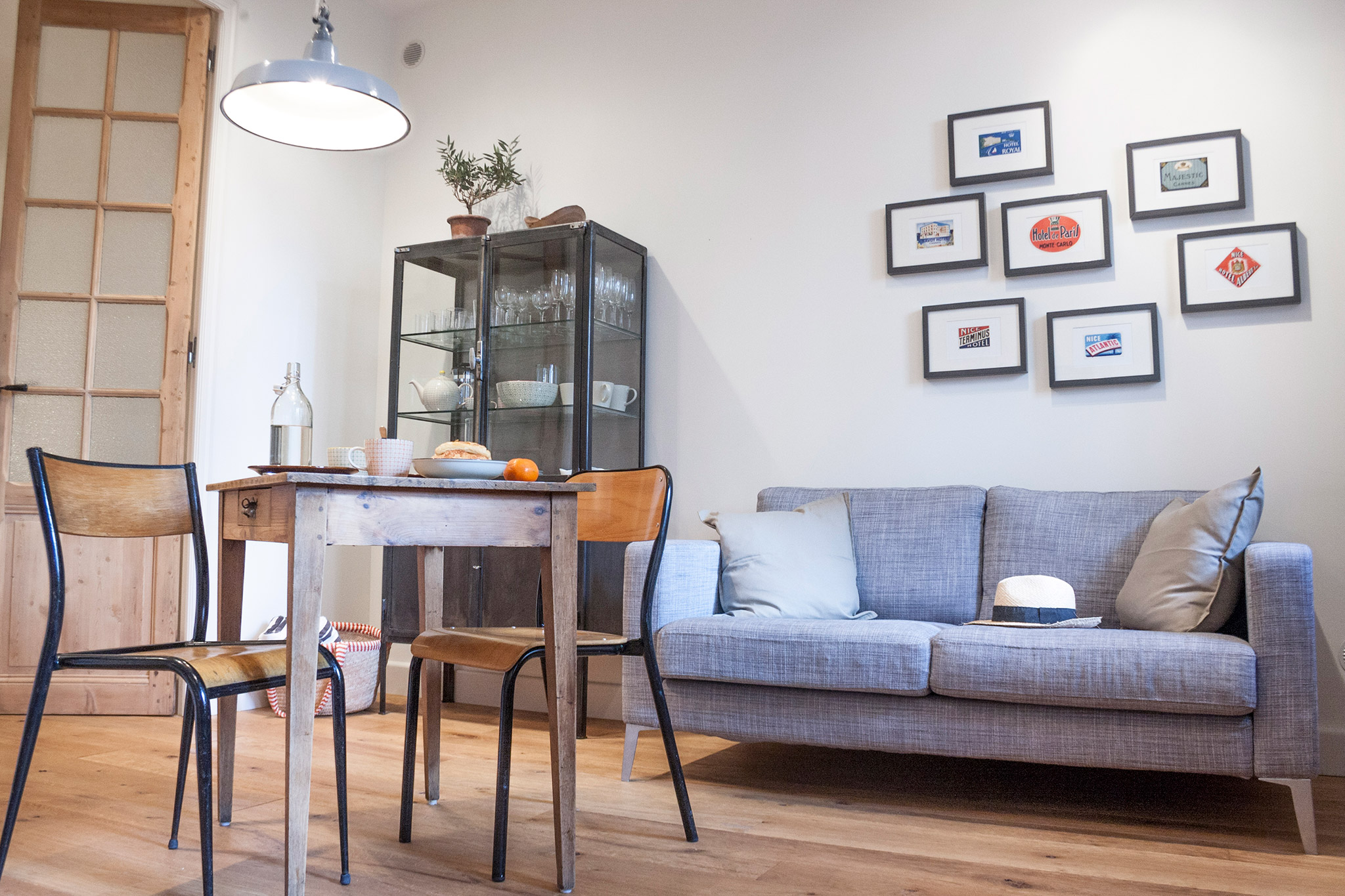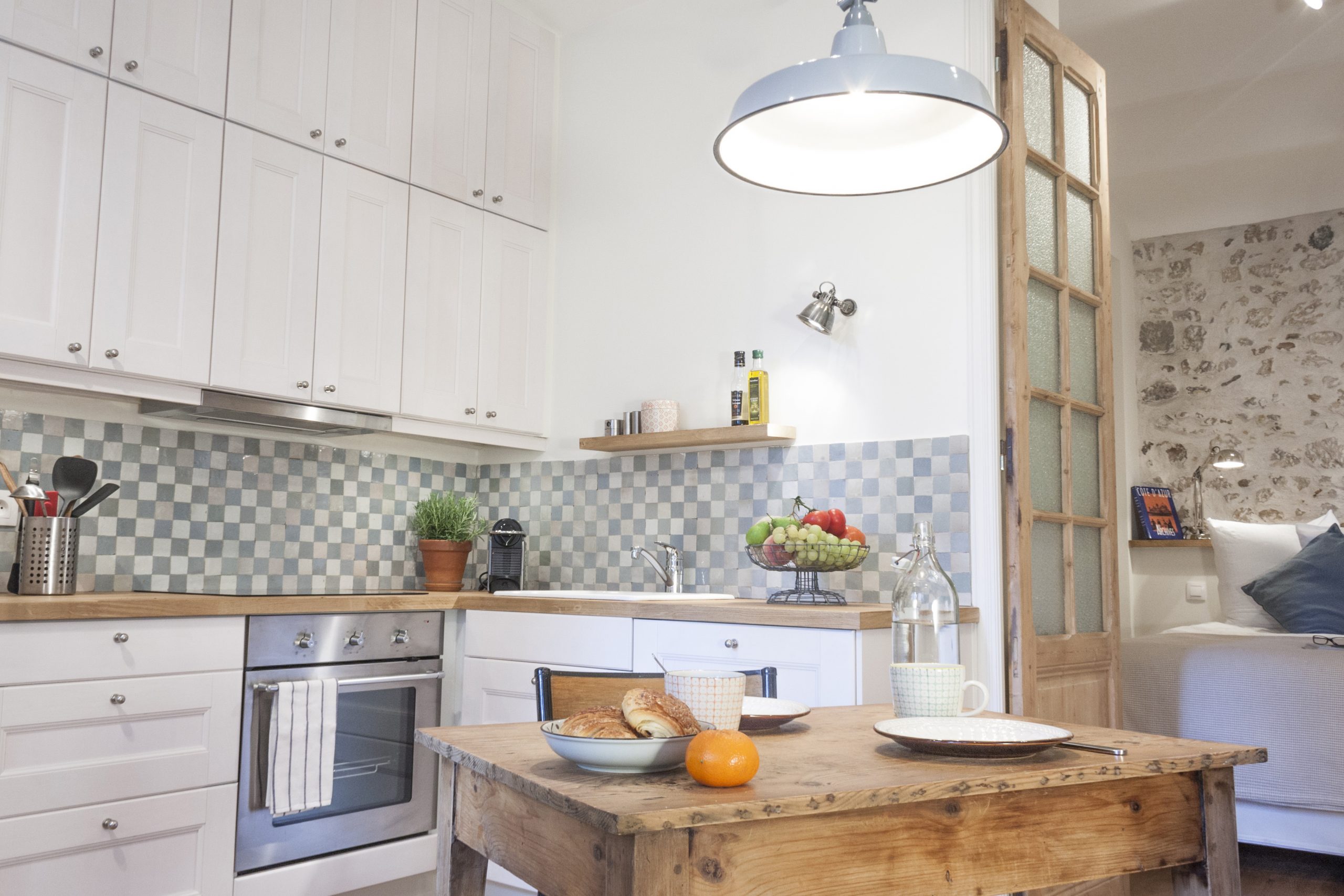 The apartment is packed with luxurious touches that pamper and delight, such as the comfy bedding, deluxe linens, and plush pillows (choose either a king-size bed or two single beds). In air-conditioned (or heated) comfort, guests can enjoy cable channels (in French, English, German, Spanish, and other languages).
Our entertainment system also includes Apple TV, Netflix, and other streaming services. You can also connect to our wireless Bluetooth speaker to listen to your favorite tunes. Of course, high-speed Wi-Fi connection is available throughout the apartment.
" Apartment absolutely ideal for two, well equipped, clean and located close to all amenities. "
Colin, United Kingdom, October 2016.
The kitchen is fully equipped with chef-quality appliances (convention oven, stovetop, microwave, dishwasher, refrigerator/freezer, Nespresso coffee machine), and all the cookware, utensils, tableware, and stemware you need to prepare and serve an unforgettable meal.
L'Atelier also includes washer and dryer, iron and ironing board, and hair dryer. Plus, plenty of power outlets and ample wardrobe and storage space!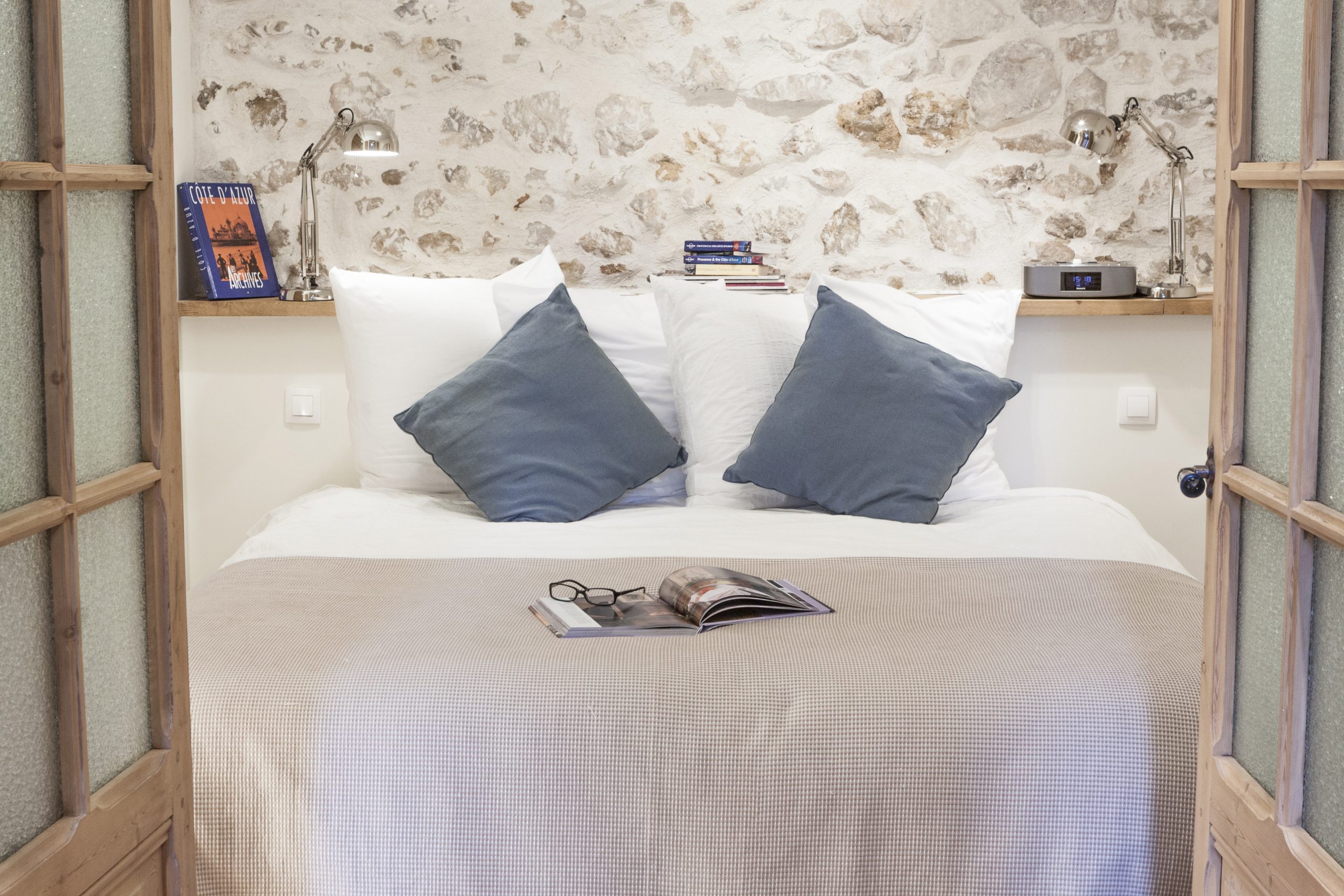 " The style and location of L'Atelier was top notch. The huge king size bed was extremely comfortable and there is plenty of wardrobe and other storage space. "

John and Patricia, Australia, May 2016.
Restful nights are guaranteed, as the tranquil bedroom, appointed with soft bedding and fluffy cushions, is tucked away at the back of the apartment.
Larger groups can rent the entire townhouse, Maison du Village, which accommodates six guests.
When staying at L'Atelier, no car is needed to enjoy the exceptional beauty and history of Antibes. Step out on the cobbled street and you can take your pick from grocery stores, boutiques, bistros, bars, sandy beaches, and cultural attractions (like the world-famous Picasso museum)—all just an easy and scenic stroll away.
A five-minute walk takes you to the extraordinary bounty of the Provençal market—with its farm-fresh fruits, vegetables, meats, cheeses, flowers, and more.
The Space
Location
Amenities