Maison du Bateau
antibesrental
Maison du Bateau
"A Provençal-styled treasure."
Registration number: 06004210041CM
Live just steps from the sea, on Antibes' most beautiful street. A rare find, this beautifully renovated townhouse shines with historic charm and
contemporary flair on the most picturesque cobblestone street in ancient Antibes. Enjoy the rustic character of the Old World and the luxury of modern conveniences!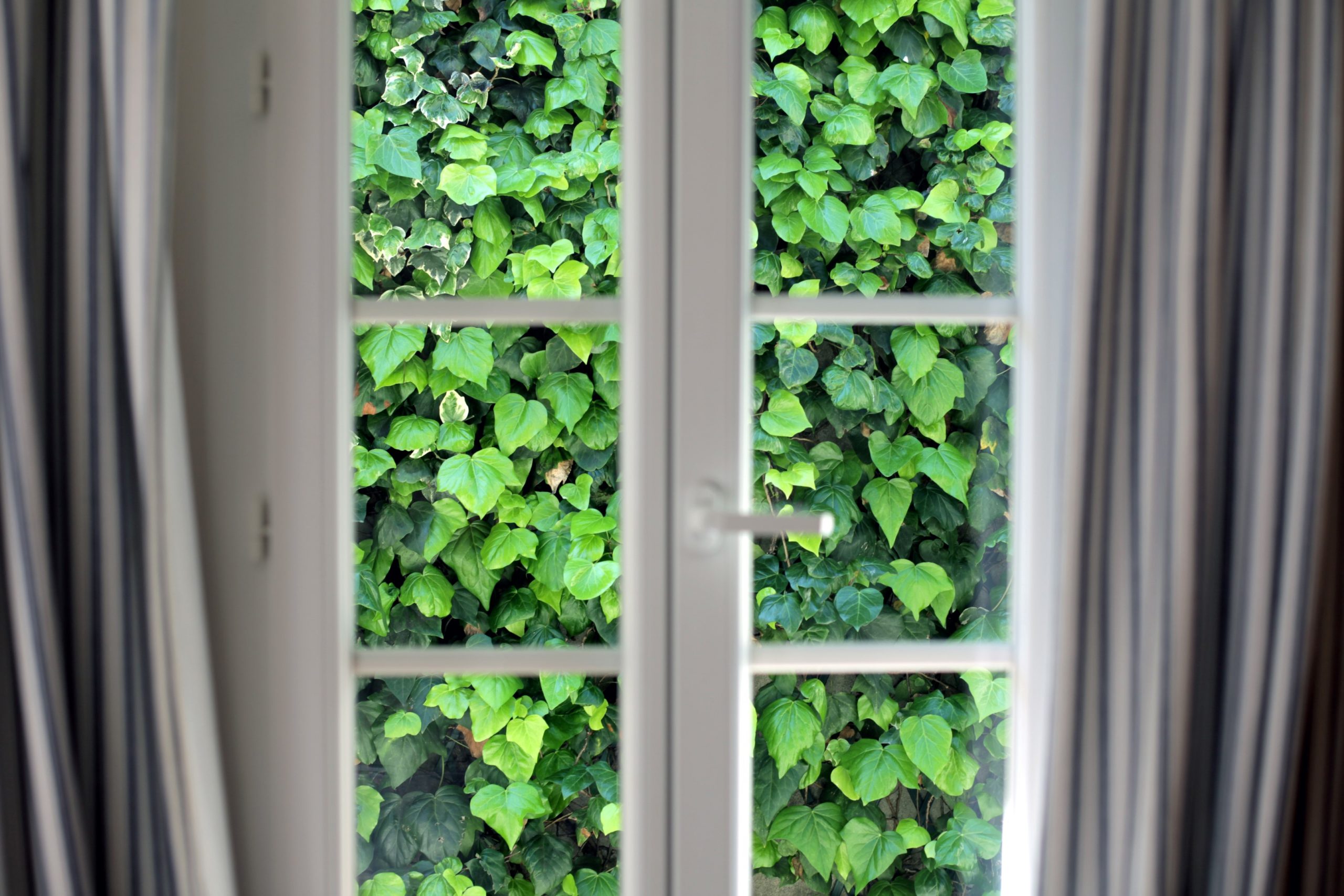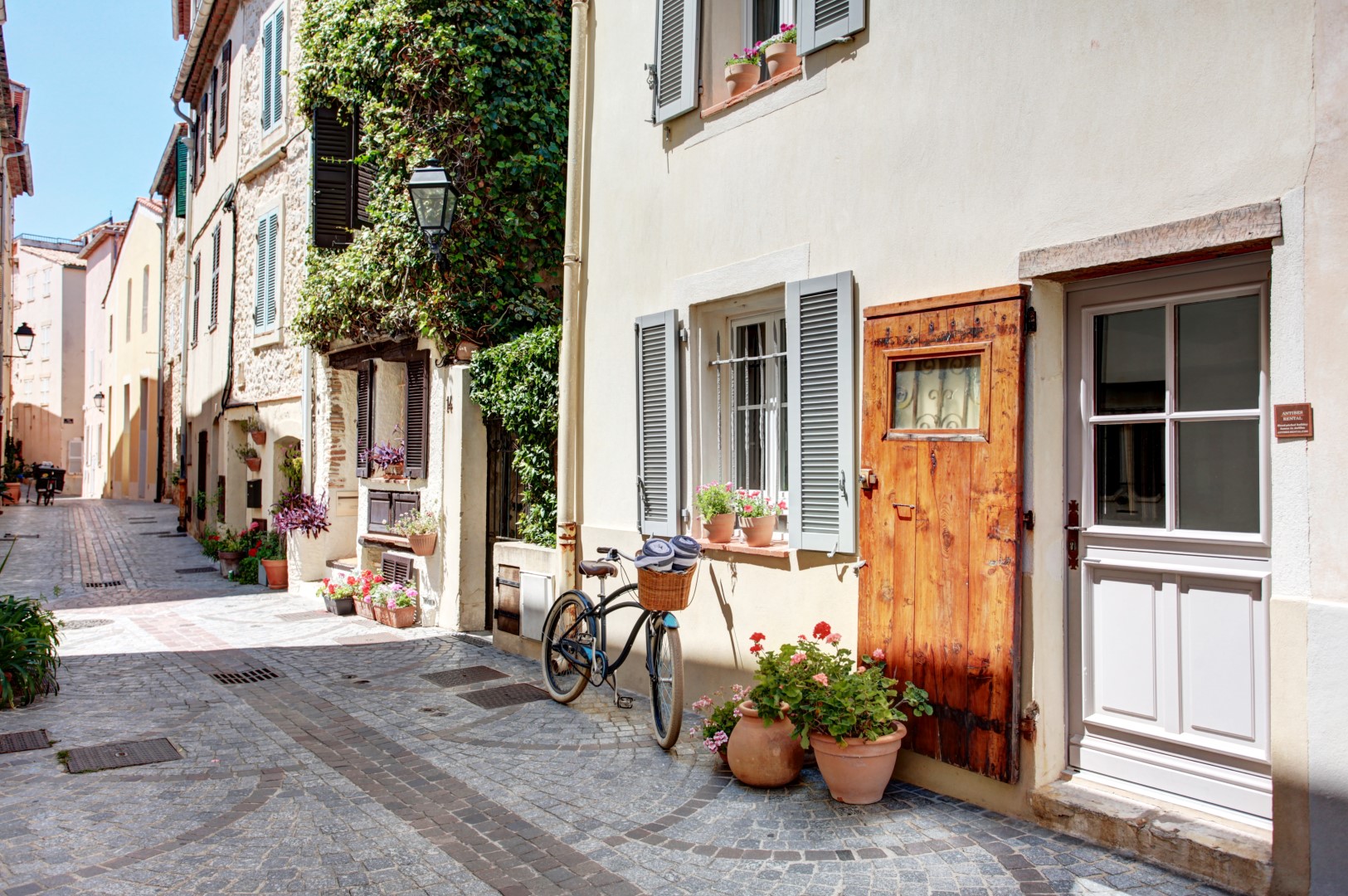 Located on idyllic Rue du Bateau, by the medieval ramparts of the Old Town, and across the street from the Picasso Museum, this two-bedroom, two-bathroom townhouse is a bright and airy work of art.
Meticulously renovated with comfort and style in mind, Maison du Bateau is your painting-perfect home during an unforgettable stay on the Côte d'Azur. Although guests are just steps away from gorgeous sandy beaches, delightful shops and restaurants, and the wonderful Provençal farmer's market, the setting is quiet and peaceful—just what you need for rejuvenating days and restful nights.
The pastoral charm of Provence and the elegance of the French Riviera can be found throughout the townhouse, in its lovely oak finishes, exposed stone walls, and artisanal tile work.
While preserving the quaint and historic essence of the property, the owners have freshened the home with world-class, contemporary amenities so that guests' every desire is thoughtfully considered and fulfilled.
Maison du Bateau
property details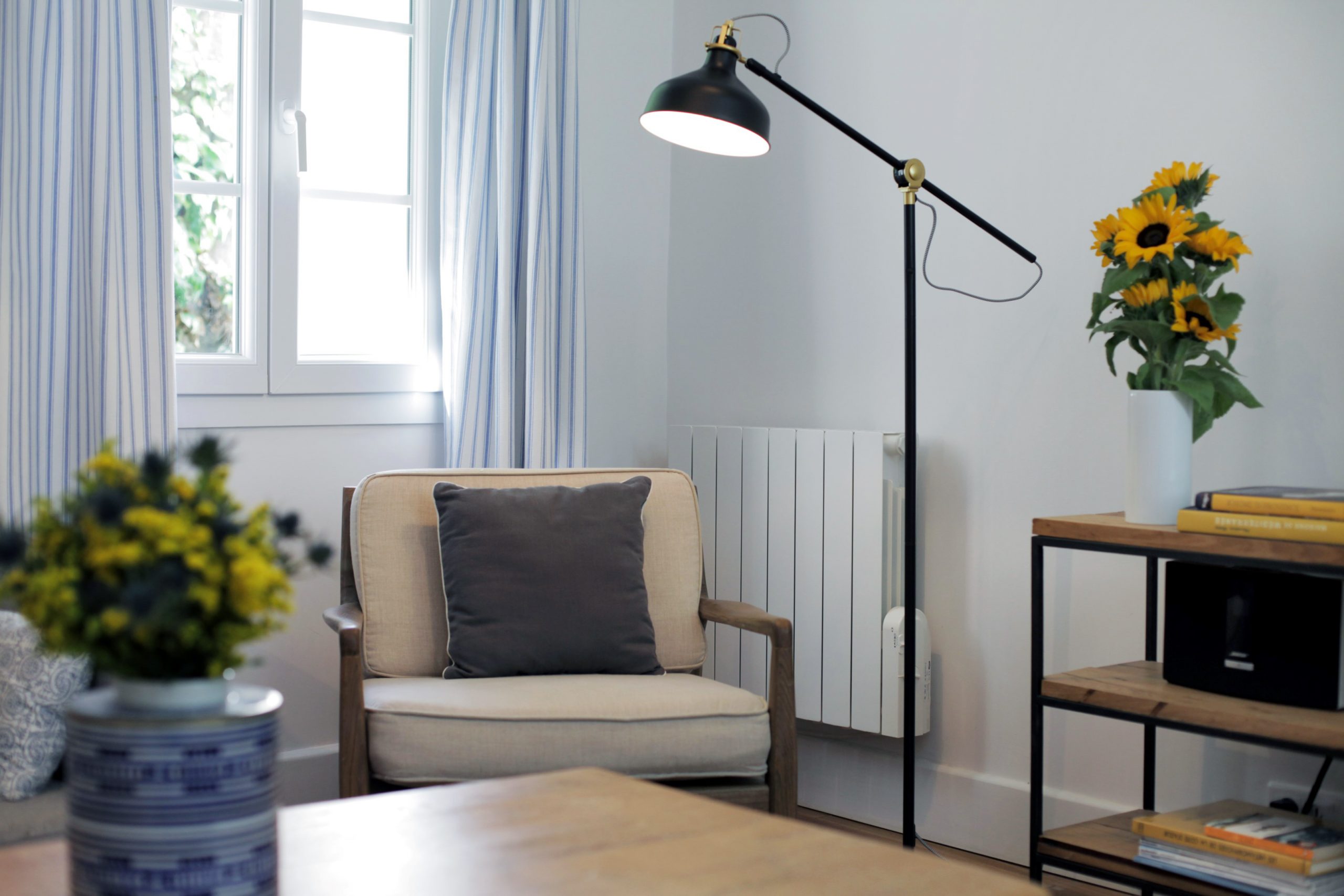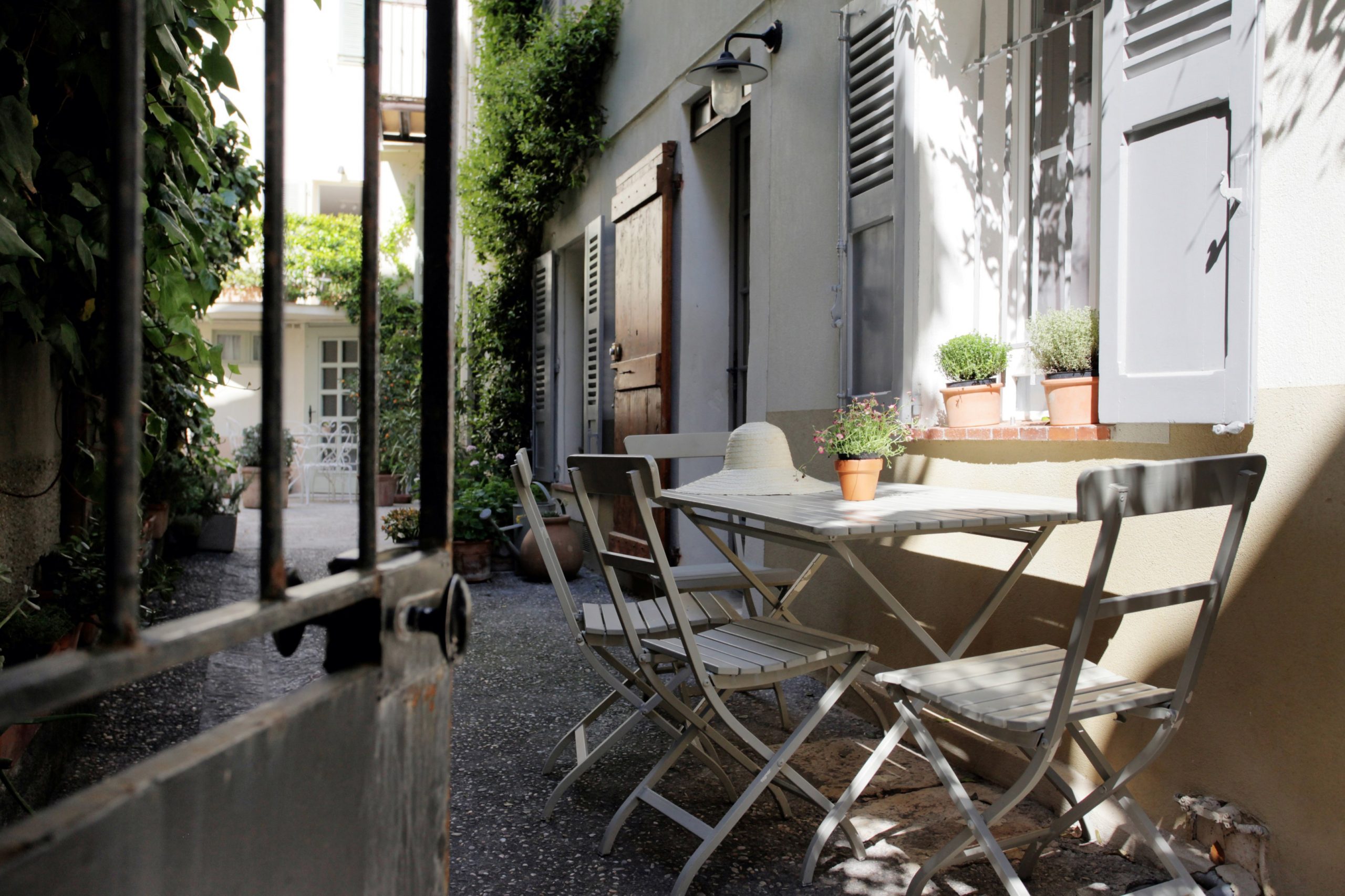 Perfect for four guests, the two bedrooms are generously appointed with dreamy mattresses, plush pillows, and high-thread-count linens, while the bathrooms are stocked with luxurious bath products.
With air-conditioning and heating throughout the house, guests can comfortably lounge, relax, and enjoy a large Samsung LED TV with access to Netflix, AppleTV, and cable channels. Free high-speed Wi-Fi provides even more entertainment options.
" This stylish two-level townhouse has a perfect
location in the heart of the old town. "

Kathleen, United States, July 2016.
Shop the nearby farmer's market for fresh local seafood, olives, goat cheese, Cavaillon melons, rosé wines, and other regional specialties. And bring your ingredients back to the farmhouse-style kitchen, which comes with everything you need to make a gourmet meal—a chef-quality oven and stove, dishwasher, microwave, and Nespresso machine, as well as all the cookware, utensils, dishware, and stemware.
Then take your coffee, your glass of wine, or your home-cooked meal to the shared courtyard, where you can fully experience the restorative beauty and pace of French village life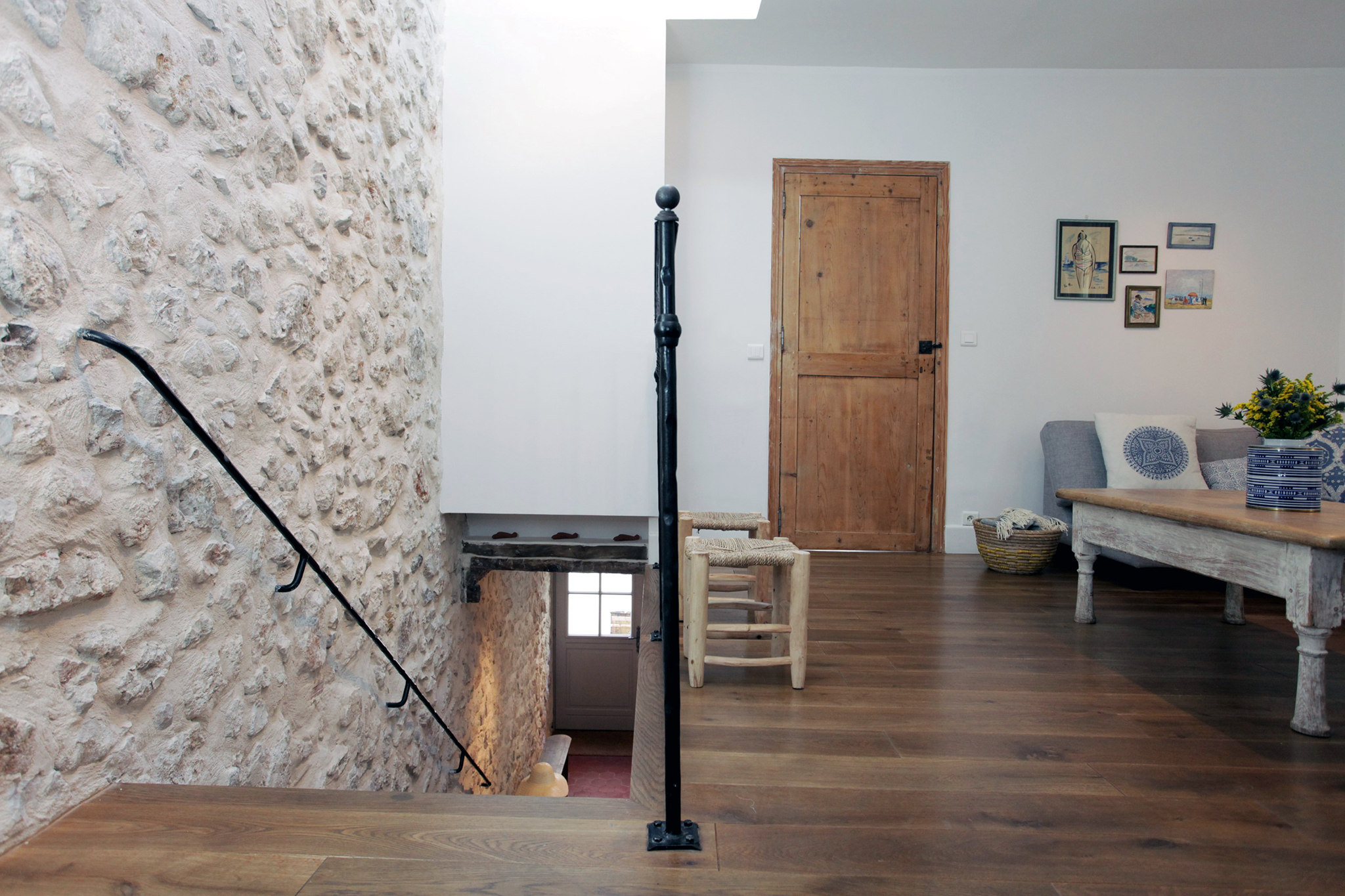 " This lovely house offered everything we could wish for. "

Carol, United States , October 2012.
The property comes with all the necessities of home: wireless Bluetooth speakers in each bedroom, Bose stereo speaker in the living room, washer/dryer, iron and ironing board, baby cot and highchair.
Each bedroom can be configured to one king-sized bed or two twin beds.
Maison du Bateau allows guests to savor their French Riviera holiday without the hassle or worry of a car (underground parking is available within a five-minute walk, however). Cultural sights, cafes, boutiques, grocery stores, restaurants, bars, and the sparkling turquoise waters of the Mediterranean are all just meters from your doorstep.
A five-minute walk from the house, the lovely Plage de la Gravette is a small beach that is great for families with young children, as it is sheltered from the waves by a breakwater. As a special touch, beach bags and beach towels are all ready to go so guests can head straight for the
The Space
Location
Amenities