Villa La Calado
antibesrental
La Calado
"A jewel of the Jazz Age."
Built in 1926, La Calado is a meticulously restored villa in Antibes. Sized right for family gatherings and relaxing getaways with friends, this "grand dame" charms and delights with its spacious rooms and heated saltwater pool.
Thoughtful design and quality craftsmanship have updated its amenities while preserving its historic character.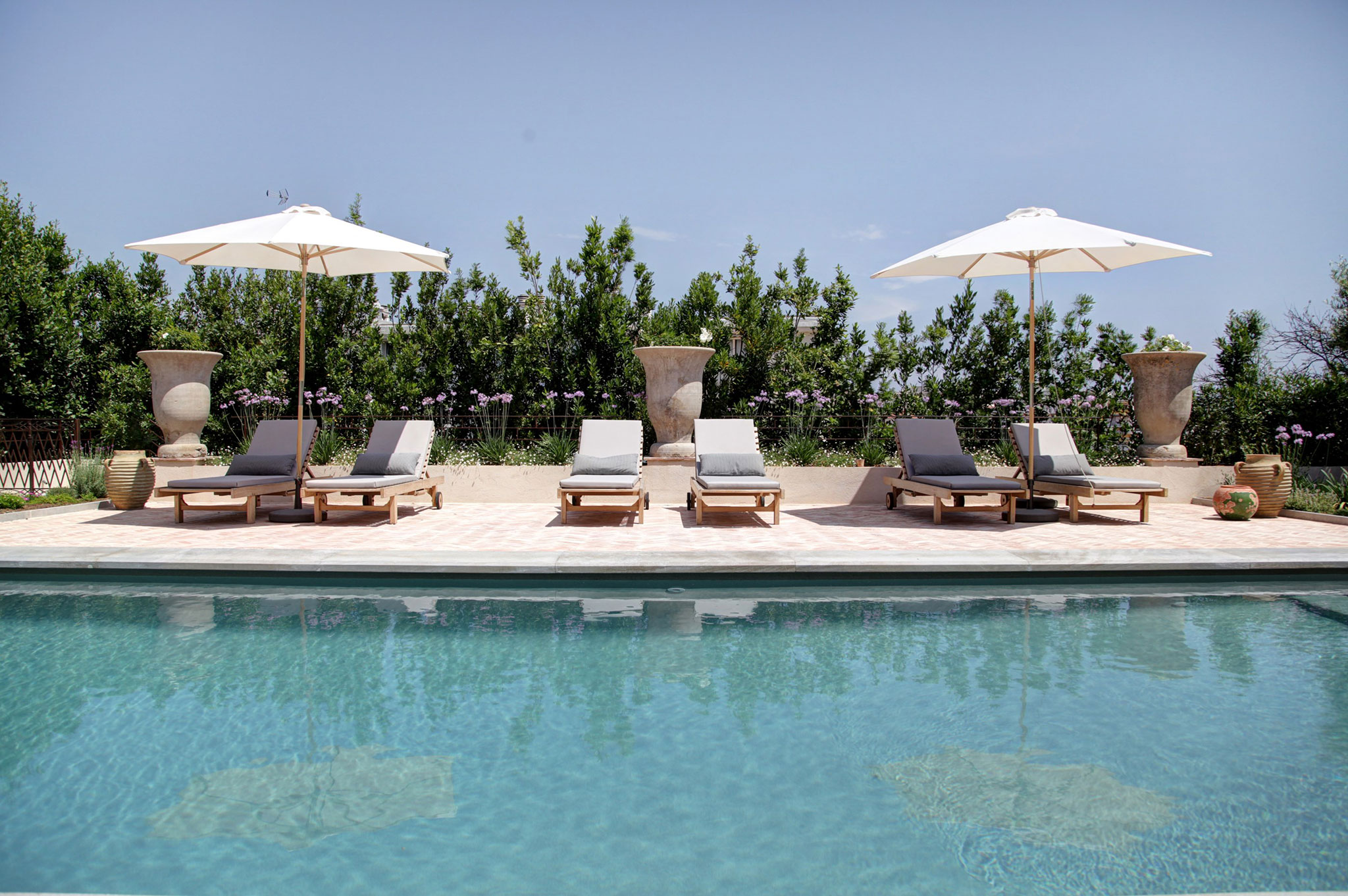 Tucked in a quiet residential neighborhood just minutes from the Old Town of Antibes, La Calado is your escape into the beauty and serenity of country living in contemporary, Côte d'Azur style. Recharge in one of the five bedrooms (each with its own luxurious, en-suite bathroom).
Relax in you choice of multiple dining and lounge areas. Stroll among the olive trees, rosemary, lavender, and cypress, in tranquil gardens that evoke the French paysage. Or prepare a gourmet meal with loved ones in the indoor or outdoor kitchen. At La Calado, there are so many ways to enjoy a perfect day.
La Calado
property details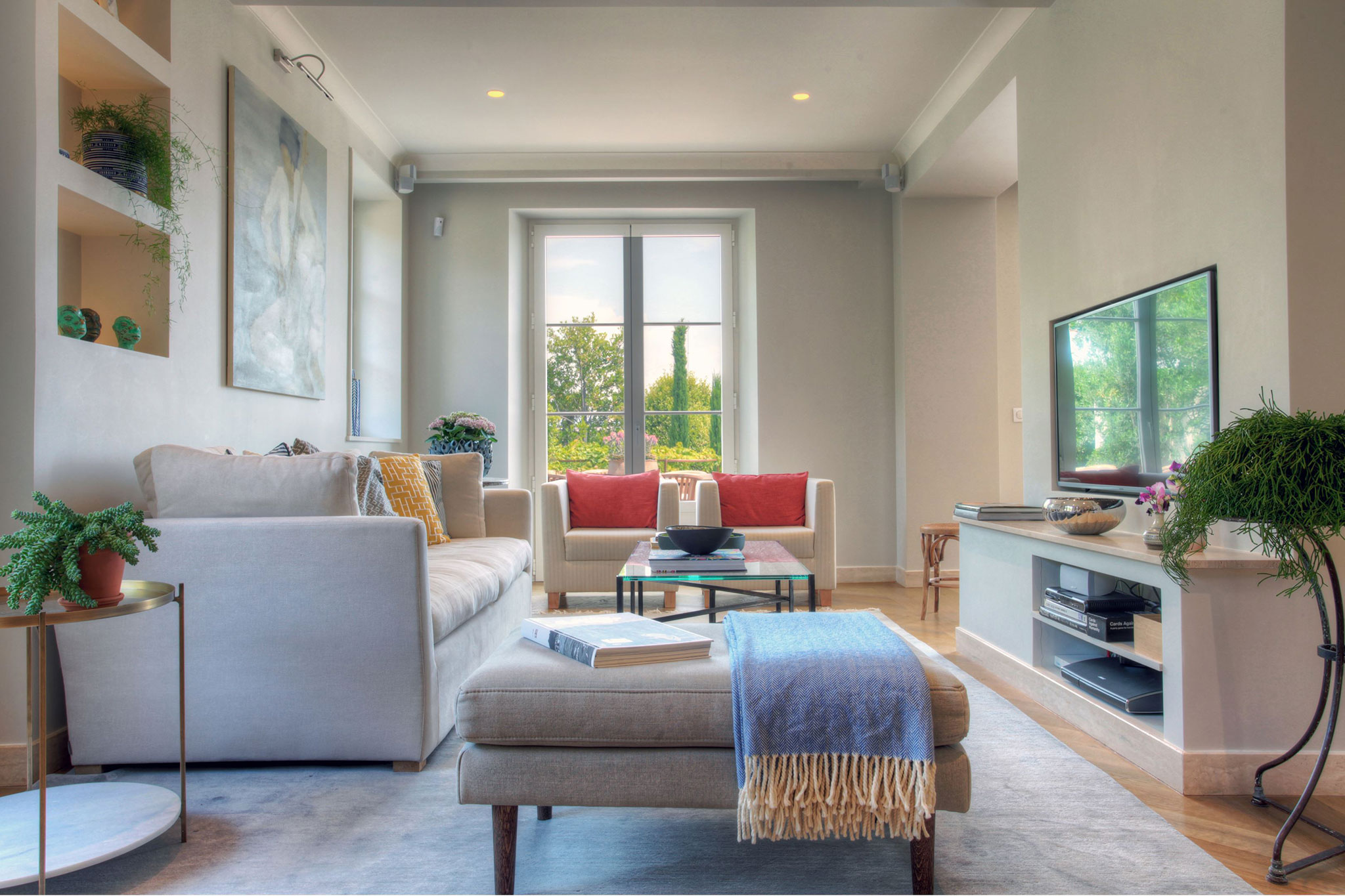 Guests can immediately sense and appreciate the meticulous curation of materials at La Calado, from hand-picked Carrara marble in the kitchen to Moroccan tiling in the bathrooms to rustic, repurposed wood doors throughout.
Uncompromising attention to detail can be found at every turn in the villa, in its filtered-water taps, high-end Sonos sound system thoughout the villa, and selection of spa-quality luxury bath products. These touches ensure that every guest feels pampered, revitalized, and totally cared for.
Stylish yet comfortable, each of the five en-suite bedrooms sparkles with its own unique features and flourishes, such as the stunning rooftop terrace adjoining the Penthouse or the decadent soaking tub in the Master Suite.
The gourmet kitchen comes fully equipped with state-of-the-art appliances and fine flatware, stemware, and dinnerware–while the entertainment systems in the living room and media room offer cable TV channels and access to Netflix and Apple TV.
La Calado is truly a gem–inside and out. Emerging from the heated saltwater pool, guests can rinse off in the arbor-like outdoor shower, sip some rose while lounging by the cozy outdoor lounge, enjoy a leisurely meal at one of two expansive dining tables and then wander the well-manicured gardens, which feature a quaint koi-pond grotto.
The convenient outdoor kitchen is second-to-none, featuring a barbecue grill, oven, refrigerator, dishwasher, and enough dishes and utensils for a grand feast.
" La Calado feels more like a Four Seasons or Aman than a vacation rental. "

Harold, New York, July 2016.
Like many of our guests, you'll probably never want to leave La Calado! But we encourage you to explore the Old Town and its many shops, boutiques, and restaurants. The traditional Provençal market, featuring farm-fresh products and seasonal fruits and vegetables, is not to be missed. And don't forget to stake out a spot on a sandy beach! Of course, we have your beach towels and beach bags ready to go.
Although all the attractions of Antibes are just a short stroll away, La Calado also has secure parking on the grounds for four vehicles, should you choose to motor around the French Riviera.
La Calado's five, distinctively decorated bedrooms are found on three of the four floors: the Penthouse on the top floor, three bedrooms on the next floor (the Master Suite, Chambre Rouge, and Chambre Grise), and one more on the floor below the ground floor. The last opens to a lovely private garden, and is adjacent to a Turkish-style bath.
The ground floor–which features the kitchen, living room, and dining room–opens out to the gardens, fire pit, and one outdoor dining area. Just below those features, the swimming pool level also includes a heated shower, the outdoor kitchen, and another dining area.
For more information, do have a look at our great collection of designed homes for unforgettable holidays on the French Riviera on HandPickedRiviera.com
Amenities
included